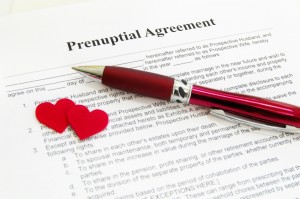 In determining the Marital Estate, you must first understand the differences between marital and non marital property. Typically, the court considers all property obtained before the marriage non-marital property, thus property not subject to division in the event of death or divorce. The court has no authority over this property; however, any marital property obtained during the marriage may be subject to equitable distribution. The following is a partially comprehensive guide to determining the marital estate.
Depending on where you live, you may have to take extra steps to protect your individual assets acquired during marriage. Community Property states (Louisiana, Arizona, California, Texas, Washington, Idaho, Nevada, New Mexico, and Wisconsin) enforce "community property" status for all assets obtained during the marriage, meaning they are subject to 50/50 division. Assets include each spouse's earnings, everything bought with earnings, debts and any inheritance obtained during this time. This time of community property doesn't end until the couple physically separates with the intention of beginning the process for divorce.
Meanwhile Common Law property states hold that any property obtained by one spouse during the marriage remains solely in the custody of that spouse.
Keeping all of these things in mind, how do you proceed in determining the marital estate as you enter into a marriage?
Consider entering into a Prenuptial Agreement so you clearly define what assets are not subject to equal division upon death or divorce. This may be an awkward first step for you and your beloved, but even though the overall divorce rate has been steadily falling since the 1970s, it's still not an uncommon phenomenon for Americans.
It would also be helpful to maintain a record of all assets you consider indivisible, given to you individually as gifts or inheritance during the marriage. If you enter into the marriage with separate property, keep that property's status as separately owned, if you can, especially if you wish to keep it in your family.
If any of your or your spouse's property increases in value during the marriage, be prepared: that increase may be considered marital property, and the other spouse may be entitled to part of the increase in property.
A non-marital asset you sell may be considered a marital asset if your spouse contributes money to whatever you use the money gained to buy. So if you'd like whatever you're buying with the sold individual asset's income to also be an individual asset, use only other individual assets to purchase it.
If you'd like to keep some assets non-marital, do not:
use non-marital funds to pay off non-marital debt
deposit income gained during the marriage into non-marital accounts. Income gained during the marriage is typically considered marital property
open a joint bank account with non-marital money
Again, this is a partial guide; a lawyer should be your first counsel. You and your soon-to-be spouse should each consult with your lawyers separately, so neither forgoes adequately protecting themselves in the event that something does go wrong in your marriage.
---
Attorney Advertising. This web site is designed for general information only. The information presented at this site should not be construed to be formal legal advice nor the formation of a lawyer/client relationship. The hiring of an attorney is an important decision. The information you obtain in this website is not, nor is it intended to be legal advice. You should contact an attorney for individual advice regarding your situation..