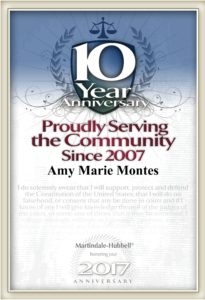 Martindale-Hubbell is the most trusted legal directory for finding and researching the best attorneys in the business since 1868. Its database has allowed many people in communities zero in on the attorney that fits their needs from practice areas, client ratings, and more. This week, Amy Montes received the 10 Year Anniversary plaque for proudly serving her community since 2007 from Martindale-Hubbell.
Amy Montes' Dedication to Community
Since 2007, she and her team of legal experts have been serving Orange County, California by listening to their concerns on legal matters, and starting fresh after divorce and other complicated family issues. Amy Montes graduated in 2005 from Whittier Law School and immediately started obtaining the best results for those going through traditional and non-traditional divorces or dealing with custody matters.
She has received great five-star reviews among her clients for years and was nominated to the Gray Williams Inns of Court in 2010, a prestigious organization that discusses legal issues and supports certain organizations. Amy Montes has been dedicating herself to her community for years, and it shows in her work.