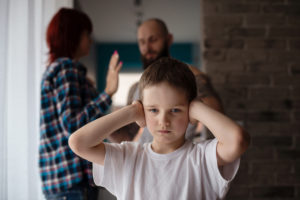 When you are involved in a divorce, you might be thinking about all of the stressful aspects involved, like ensuring that your assets are protected and figuring out how alimony will come into play. If children are involved in your marriage, this is one of the most important things that you will encounter in your divorce, as everything you do is for your children. This is one of the main aspects that any parents worry about in divorce, as you worry about your child's future after this traumatic event from their self-esteem in the future, poor peer relations, depression, and other common feelings that children might experience over the years. How can you protect your children in the midst of a divorce?
How to Protect Your Children
Cut the Criticizing: You should never criticize your spouse in front of your children. Children know that you are mom and dad and don't want you to fight with one another or pin them against their parent. This can just harm your child's self-esteem and is best avoided.
No Messengers: Never use your children as messengers to speak with your spouse about adult issues that are best kept between the both of you. Children don't want to feel like they are fighting a battle alongside you.
Reassurance: Always take the time to reassure your child that they are loved and that the divorce isn't their fault, as children tend to blame themselves when their parents are hostile with one another.
Encouragement: Encourage the relationship that your child has built with your ex-spouse. Do everything you can to ensure that they have frequent visitation so that the relationship can remain strong.
Never Uproot: Try not to uproot your child immediately following a divorce. Your child should have a stable place to call home when they are going through this traumatic experience. If your child absolutely has to move, keep in touch with the friends they have made back home. 
Minimize Fighting: Try to minimize the arguments that you have around your child. If you are arguing about something, keep it out of your child's earshot, as they could be listening in at any time. 
Take Care of Yourself: Take good care of yourself because your child depends on you to stay healthy. This means that you should never isolate yourself and you should consider getting help if you start to feel overwhelmed.
Your children are one of the most important things to you in your life, which is why it is important to consider these tips when you are going through a divorce. This could be one of the most difficult aspects in your life, but you don't have to let it completely take over the life you have built with your family. At the Montes Law Firm, we are here for you. Call us to find out how we can assist you in the midst of your divorce case at 714-731-8600.