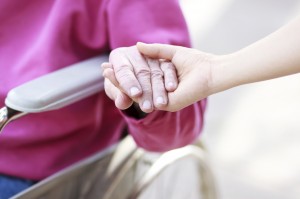 In June of 2016 at a hospital in New Jersey, a dementia patient discharged himself and walked home to be with his wife. You may not think much of this but he was wearing nothing but an exposing medical gown and was covered in urine and feces from his venture. His wife claimed that he wasn't supposed to be released but the hospital found him to be "mentally and physically capable" of wishing to leave the hospital and released him without interference. The hospital spokesman commented, "Patients who are cleared medically are deemed competent and have the legal authority to authorize their own discharge." However, we see this happen too often in a hospital and nursing home setting. Far too many elders get pushed into situations that could be harmful to them and nothing is done to stop it. This is why it is important to understand when negligence is happening to dementia patients and what can be done about it.
The problem is, too few people really understand dementia and are equipped with the right tools to handle these specific cases in hospital and nursing home settings. Dementia refers to a condition in which a patient experiences symptoms that cause a decline in mental abilities. Many hospitals and nursing homes fail to realize that dementia patients are entirely complex and have many needs to be met. In other situations, these patients may fall victim to abuse. In fact, in a study done by the National Center on Elder Abuse, patients who experience dementia are more likely to be abused than any other elderly population. Abuse can happen for many reasons and exhibits signs like unexplained bruising, dehydration, new health concerns, mood swings, and so much more.
However, people fail to recognize the signs sometimes, as not all abuse occurs on a physical level. Many elderly people may also deal with verbal abuse such as name calling, screaming, and being treated in a less dignified manner. In cases of dementia, drug abuse may take place as well. Nearly 300,000 nursing home residents are administered anti-psychotic drugs, which means that drug abuse can and does occur. Many of these patients may not even need the medications that are given to them or the drugs carry a black box warning that may cause harmful effects to patients.
How the Nursing Home Reform Act Helps
Congress passed something known as the Nursing Home Reform Act in 1987. This act says that all nursing homes must provide services and activities to attain the highest practicable physical, mental, and psychological well-being of each resident in accordance with a written plan of care. To keep this act in line, nursing homes will be subject to periodic unannounced visits by investigators to make sure that they are complying with all regulations at all times. This has been found to lessen the likelihood that patients are not receiving proper care.
In an elder abuse case, you may wonder where to turn. Having a useful attorney on your side is your best first option when attempting to make a difference in the life of someone you love. You may have a claim for negligence or medical malpractice, so call today for more information.