Many years ago, families used to tend to stick around one another in the same areas growing up. However, now families are branching out and you can find family members all over the globe. This is why, for some children, it is difficult to maintain a long-term relationship with grandparents that they do not see very often. What happens when a child misses out on important time they share with their grandparents because of a lengthy move? What if these grandparents have visitation rights to a child in their life? How does one handle the move?
The Idea of Virtual Visitation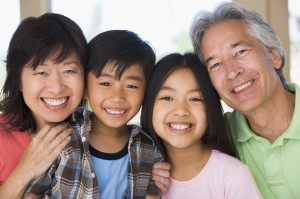 When a grandparent has rights to visitation with a grandchild, moving far away from a certain area can cause many issues. When grandparents and grandchildren live far away from one another, one of the options left is virtual visitation. This special type of visitation that takes place over a phone or the Internet keeps grandparents and grandchildren united during a time when they live quite a distance away from each other. This is usually the perfect solution to long-distance relationships when the courts find that it is nearly impossible for a child to travel back and forth between two places when this travel is especially extensive.
When a grandparent is given visitation rights and e-visitation has been decided in the best interests of the child, how does this play out? Parents must be willing to make their children available when the grandparent wants to speak with them, which means that parties involved must have either cellphones or Internet access for it to work. Sometimes, it could be as simple as phone calls, while in other cases Skype might work best for a certain amount of time every day or every few days.
Because many states believe that virtual visitation is not a substitute for in-person visits, some grandparents may still be granted visitation times when it works for everyone, such as Summer breaks or for the holidays. These are aspects that you should be prepared for when it comes to your visitation schedules. We can help you through every step when it comes to your case. We want to help you at the Law Offices of Amy M. Montes, where your case means everything to us. Call us as soon as possible for more information at 714-731-8600.