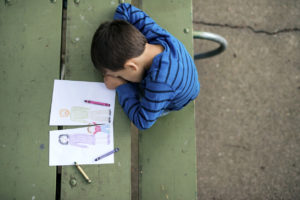 The only thing left to do when you suspect abuse against your child is to take legal action against the abuser. However, you can't just come into court with a he-said, she-said. This is why it is important to have evidence of some kind when it comes to child abuse, especially if it is against your spouse and you are looking to modify your court order. Luckily for you, divorce attorneys can help you in cases where abuse is prevalent to help you get the best results for your child.
Using Evidence to Make Your Case  
In our day and age, unfortunately the court does not treat neglect as seriously as they do abuse. The truth is, both are as equally devastating to a child and must be investigated as soon as possible. The problem is, as you may have already found depending on your case, child neglect is much more difficult to prove. The court usually sees cases where photographs and mental health records are brought into question as evidence.
You never want to find that the accuracy of your evidence is false. If you make false accusations against somebody, especially in a serious case like this, you could find yourself in legal trouble – such as being sued or having the court take you less seriously, possibly even becoming a determination in your custody. Your former spouse could take action and sue you for defamation, especially if they suffered consequences from the false allegations.
The relieving news is that, if you suspect that your child is being abused, you can stop it from happening by taking charge and keeping your child away from your abusive spouse. You should always call the appropriate state department that deals with child abuse to handle your case while you are waiting to go through the court. You can call us today if you believe that you should have your custody order modified because of an abusive spouse. We can help you with every aspect of your case, from divorce to protecting your child at all costs. Call us today for more.