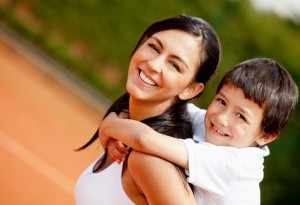 Plenty of mothers feel as if they should be home with their children instead of working – but in a day and age where many families consist of both parents working, this can be a challenge in and of itself. You may have had thoughts about taking time off of work and staying at home with your kids, but realized that it is not as viable of an option as you expected. The truth is, more mothers are finding that, if they continue to work, they can have money for things that they can enjoy with their children, such as vacations, going out for dinner, and giving their children many more opportunities.
By constantly saying that you "should" do this or that, you may start to feel down as a mother. You don't always have to give into social expectations, family pressures, and 'rules' that you have set for yourself without even knowing it at times. In the midst of divorce, you may feel as if everything is falling apart but this is far from the truth. You can make your family come together and be stronger than ever.
Tips to a Better Lifestyle 
If you feel like there is a lack of balance between work and family in your household, perhaps you should keep some tips in mind. Here is what you can do:
Letting go of Guilt: You may be the type of mom who sits at work and thinks of her children all day and wonders how you can be there for them. However, sometimes you will find it freeing to focus on your career and bigger role in the company. Think about what you are able to afford for your children now that you are working as a successful career mom. 
Finding the Best Childcare: Find the best list available for childcare that you can trust so that you know that your children are in the best hands when you are away. Find people who have long-term commitments to families and the best history. 
Make Easier Mornings: If you wake up without a morning schedule, you may feel frazzled. Have everything ready such as your kid's lunches, their clothing as well as your own, and know what you want to make for breakfast. Grabbing everything as you head out the door can help both of you.
Organization and Scheduling: Keeping a calendar of when bills are due, special family events, activities, and so much more can make you feel more organized. Staying organized will help you and your family feel like you have a clean environment. 
Staying Connected: Even when you are not with your children, you can stay connected through video or over the phone.
If you are going through a divorce, things might feel different within your family. However, these guilty feelings do not need to bring you down. Learn how to cope with the guilt and parent simultaneously, giving your kids and yourself the best life possible. Call us today for help with your divorce.