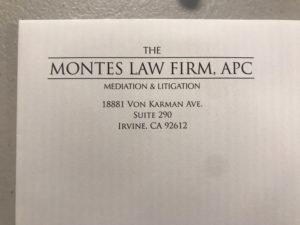 For the past eleven years Amy M. Montes has been defending clients in Tustin, CA and the surrounding areas. Montes has continued to meet the needs of those involved in Divorce, Domestic Violence and other family law related cases. The success of the firm has resulted in the need for a larger office space.
As of April 25, 2018, The Montes Law Firm will be relocating to 18881 Von Karman Ave. Suite 290 in Irvine from their current office on Centennial Way in Tustin. The move will enable the firm to continue its growth and provide room for additional staff members while continuing to be client focused.
"We were fortunate to find a such a nice space close to our current location. We wanted to minimize the impact that relocation could have on our clients, while allowing us to continue to grow and meet the demand of our clients' needs," said Amy Montes, attorney and owner of the firm.
For more information feel free to call our office at (714) 731-8600.